Security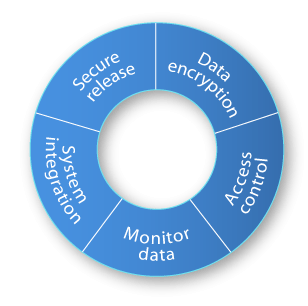 FollowMe protects document confidentiality, by holding print jobs on a secure server, only to be printed by the owner, after they authenticate at the output device.
In order to implement the best security configuration for each infrastructure, FollowMe offers an extensive range of authentication options, from radio frequency ID (RFID) smart cards, contact smart cards, numeric keypads or biometric fingerprint readers. Most authentication methods integrate with existing business applications, supporting effective deployment and Single Sign On capability (SSO). FollowMe also has a wide embedded portfolio, providing a fully integrated solution on most manufacturers' multifunction printers (MFPs), where authentication is enabled directly from the device touch screen, without the need for external hardware. This is also available for certain single function printers where readers can be attached directly.
To prevent unauthorized personnel intercepting data, whilst travelling to the printer or stored on servers and output devices, FollowMe can optionally encrypt data, using government grade data encryption to maximize security. FollowMe also restricts device access and user privileges, safeguarding devices and ensuring users only have access to the functions relevant for their job role. Restrictions can be made to copy, print, email, fax and scan and applied per user, output device or department.
Secure release
Protect document confidentiality
Documents only print when the user is present
Confidential printing enabled on shared devices
Data encryption
Prevent data interception
Government grade encryption
Protect data across the entire network
Access control
Safeguard data held on devices
Control access on a per user, department or device basis
Prevent potential misuse of printing devices

Monitor data
Comply with industry security standards
Detect any misuse of data or unauthorized activity
Identify any vulnerable areas of the network
System integration
Rapid deployment
Single Sign On (SSO) capability
Utilize existing investments in technology