Reporting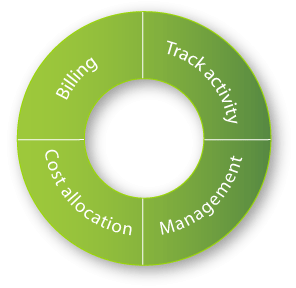 FollowMe tracks all print, copy, fax, scan and email activity across the entire organization, and provides powerful reporting tools, which give an accurate picture on costs and activity, on a per user, device or department basis. Organizations are then able to make fact-based decisions to optimize the printing environment or allocate costs to departments or clients.
FollowMe offers a wide range of reporting templates to support effective data analysis, however if more detail is required, the intuitive reporting tool supports the creation of customized on-demand reports to meet any business requirement. Data can be exported in most document formats, including PDF, HTML and CSV. Reports can be scheduled to automatically send to e-mail or a specific folder location.
For organizations that must comply with industry security regulations, activity reports can be generated from tracking data, providing a coherent audit trail for user actions and device use.
The built-in billing capability enables organizations to recover printing costs from departments or clients, where activity is captured and assigned to pre-defined billing codes for undisputable cost allocation. To accommodate each organizational structure, FollowMe provides flexible cost assignment models and integrates with most third party accounting systems.
Billing
Recover costs from departments or clients
Undisputable cost allocation
Integrates with most third party accounting solutions
Track activity
Monitor user activity and analyze trends
Comply with Industry security standards
Environmental impact reports
Cost allocation
Assign costs to department budgets
Identify and remove inefficient devices
Encourage responsible printing
Data management
Intuitive reporting templates
Reports customized to any requirement
Automatic report creation and distribution